One of the CME's goals is to be an asset to manufacturers in Mississippi and throughout the United States.  Our outreach program is a tangible manifestation of that goal.  By working with manufacturers in their own factories we are able to help them be more productive, more profitable, and increase product quality.
Our Goals
We want to make life better for the people of Mississippi and the surrounding areas.
We want to create an environment where people will enjoy making improvements.
We want to foster the exercise of people's creativity.
We want to reward people that improve their own work or processes.
We want to develop key people within your company that will become trainers and leaders in manufacturing.
Our ideal customer is any manufacturer in Mississippi or the surrounding states that wants to implement lean manufacturing processes into their facilities.  Because we are looking for partners that will work with us to achieve common goals, we have developed a simple profile of the companies with whom we want to work.
Company Profile
You and your company will make a commitment to:

People
Your Community
The economic growth of Mississippi.

You and your company are willing to learn alongside the CME.
You and your company accept trial and error as a learning process.
The services we offer fall into three main categories: basic training, kaizen activities, and model processes.  We start by coaching basic TPS concepts and TPS thinking.  We then move on to kaizen and the concept of continual improvement.  Finally we implement this training into a model process.
Type
Customer's Needs
Activity
Benefit
Where
Training
Training Needs

Correctly Learn
TPS Basics
Correctly Understand
TPS Basic Thinking
Shop Floor
Kaizen Activity
Business Needs

Improve Safety,
Quality, Quantity,
Cost
Learn Kaizen
Step-by-Step
Shop Floor
Model Process
Business Needs
Create a Good
Example of TPS
Demonstrate What
TPS Looks Like
Shop Floor
The people of your organization work with the CME to create a single Model Line in a plant where we are working.  This is a learning process that trains your people to identify problems and solve problems.  After the training, your people then take these skills back into your plant and become leaders for improvement.
Step 1.  Your people learn as we build a model line.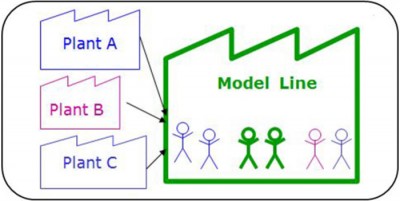 Step 2.  Your people apply this learning to your own lines.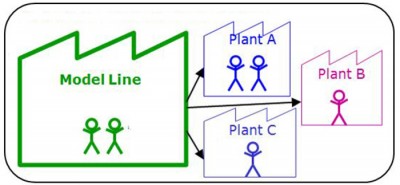 Our students are an integral part of our outreach program.  From day one at the CME our students are exposed to TPS principals and TPS thinking.  This outreach program is one way that these students can both learn and coach.  Our students learn from your people and your people learn from our students.
Unlike any other undergraduate program in the country, our students are unique because:
Manufacturing courses are taught on the shop floor in a hands-on manner.
Our students have had shop floor training in real world plants.
Through our Co-op and Internship programs they participate in Kaizen activities.
Contact our Outreach Team
Eddie Carr
Extension Service Instructor
Haley Barbour Center for Manufacturing Excellence
CME Building Room 217
1784 University Circle
University of Mississippi
University, MS 38677
(662) 915-CME9 (2639)
ebcarr@olemiss.edu