Bridgeport Milling Machine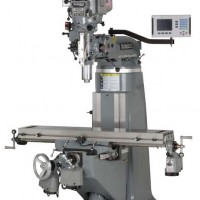 This Bridgeport milling machine package is extremely versatile and capable.  The package base is a the Bridgeport Series 1 knee type milling machine with a 2J vari-drive head.  Added to that is a Kurt PowerLock drawbar which brings with it rapid tool changes, more cutting time, and more consistent torque on the drawbar rod.  We have also added the Acu-Rite 200S readout system to give graphical feedback and assist with edge finding, centerline calculations, and bolthole pattern calculations.
The table size of this machine is 9 inches wide by 49 inches long to accommodate large stock pieces.  The quill power feed is hard chrome plated and hand lapped; it also features a quick release micrometer adjust quill stop.  Finally, the plating is Mil Spec QQ-C-320 Class 2-A and exceeds Rockwell C-70.
Image and specifications for the base Bridgeport mill were obtained from the MSC Industrial Supply Company website.
Specifications for the Kurt PowerLock Drawbar obtained from the Kurt Work Holding website.
Specifications for the Acu-Rite 200S obtained from the official Acu-Rite website.
---
Scotchman Ironworker 6509-24M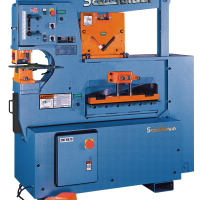 This 65-ton hydraulic metal worker can punch holes up to 1-1/16 inch diameter through 65000 tensile plate up to 3/4" thick.  It has the largest flat bar shear capacity and the largest angle shear capacity  of any machine in its class.  This machine has a large open tool table that accepts press brakes up to 24 inches and channel shears u to 5 inches.  These capacities make this machine one of the most versatile and flexible metal working machines on the market.
Flat bar shear capacity:

1″ x 6″
1/2″ x 12″
1/4″ x 24″

Angle shear capacity

6" x 6" 3/8"
5″ x 5″ x 1/2″
Images and specifications obtained through the official Scotchman website.
---
Kalamazoo Abrasive Saw K12SS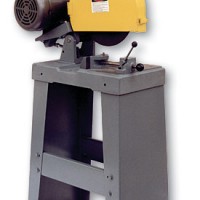 This abrasive cut saw from Kalamazoo Industries features an extra heavy cast iron base, cast iron trunnion, and cast iron overarm.  The twelve inch abrasive cutting wheel is large enough to cut solid stock up to 2.5" and to cut pipe up to 3" in diameter.  The included quick locking vise opens to 4" to accept the largest stock and also swivels to allow cutting of angles.
The saw is powered by a five horsepower  totally enclosed and fan cooled motor that runs on three phase 220/440 volt.  This allows the spindle to turn at up to 4400 rpm and the power is transferred to the cutting wheel through a one inch arbor.
Specifications and images obtained through the official Kalamazoo Industries website.
---
Roll-In Horizontal Swivel Band Saw HS1418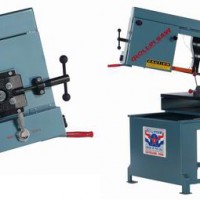 The durable horizontal HS1418 swivel band saw combines high capacity with durability. A workhorse of a band saw, the HS1418 is built to give you years of reliable service.
This saw swivels up to 60° in both directions and has a table height of 31".  The two horsepower 220/440v three phase motor provides plenty of power to cut through the stock of your choice.  For safety the saw is equipped with an automatic shutoff safety magnetic starter.  The overall dimensions are 34 ½" wide x 80″ high x 90″ long.
Stock Capacity
14″ Round @ 90°
14″ Square @ 90°
12″ Round @ 45°
12″ Square @ 45°
8″ Round @ 60°
8″ Square @ 60°
Specifications and images obtained from Roll-In Saw's official website.
---
Haas TL2 CNC Lathe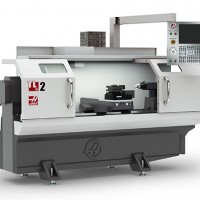 This CNC lathe has a large capacity which allows CME students to work with stock up to sixteen inches in diameter and 48 inches long.  Haas Toolroom Lathes support manual machining, the Haas proprietary programming system, and industry standard G-code.
This CNC lathe has large swing diameter of 20" over front apron and 11" over cross slide.  It also features a substantial stock capacity up to 16" in diameter and up to 48" long.  The travel specs match the stock capacity at 8" on the x-axis and 48" on the z-axis.  Maximum thrust on the x-axis is 3894 pounds and 1947 pounds on the z-axis.  The spindle is driven by a 12 horsepower motor with a maximum speed of 2000 rpm and a maximum torque of 108 foot-pounds.
Images and specifications taken from the official Haas website.