As part of the CME's innovative curriculum, experiential learning plays a key role in developing students into future industry professionals.  Students gain these learning experiences through interdisciplinary group projects, exposure to industry experts, and training in manufacturing settings.
CME students assist local company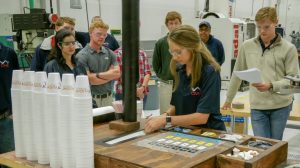 As part of CME Manf. 350 Standardized Work/Takt Time class, students were able to assist the Baddour Center with the design and layout of their new coffee condiments kit assemble line. This assemble line will package 7,200 Royal Cup Coffee condiment kits a month for inclusion on FedEx planes flying out of Memphis International Airport. Read More…..